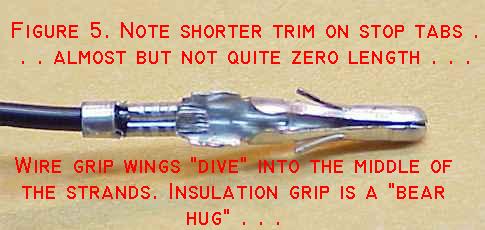 Now comes the fun part. Grip the pin loosely in pocket "D" with the ends of the wire grip wings pointing toward the pocket's "butt cheeks". Insert the striped end of the wire so that exposed strands are inside the crimp area. Close the tool while being watchful of dreaded "pin-spin". If things go as they should, ends of wire grip wings will do a 180 degree turn and dive back into the center of the strands from both sides. You'll want to squeeze the tool with as much force as you can with one hand. When you've got a nice LOOKING crimp, put a 5-8 pound pull on the wire to make sure it doesn't pull out easily from under the wire grip. If it does, you need to squeeze harder next time.

Use tool pocket "A" to form the insulation-grip wings down onto the wire's insulation. You'll have to rotate the pin in the tool so that ends of the wings are pushed into the circular bottom of the pocket. As the ends of insulation-grip wings collide in the bottom of the pocket - don't compress the tool any further. Take the pin out and use the end pincers of the tool to deflect end end of one insulation-grip down against the insulation. Return the pin to pocket "A" and rotate the pin in the pocket as you form the insulation-grip wings down smoothly around the wire. The goal here is very different from the electrical connection. The conductor strands need to be in held very tightly while the insulation gets a only snug "bear-hug" as shown here. If you look at similar pins installed on PVC insulated automotive wire, the fabricator may have turned the insulation-grip wings into the insulation not unlike the wire-grip. I DO NOT RECOMMEND this on the aircraft wire - the insulation is too thin. For airplanes we want a simple, snug support of the wire behind the wire-grip without penetrating the insulation.

Note also in this view how short the stop tabs are. Trim with caution as you learn how to deal with each style and size of pin. Cut it off too short and the pin will not be properly retained when you install it. If it's too long, it will simply resist insertion into the back of the connector housing.